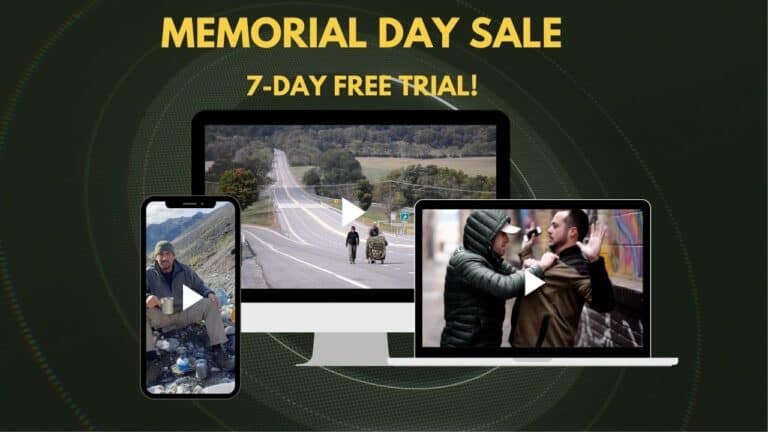 Survival Summit Elite Subscriptions
Survival Summit Elite Subscriptions
Through Memorial Day ONLY, Save big on your subscription, AND receive a FREE 7-Day Trial w/Unlimited Access. Cancel ANYTIME.
The Survival Summit Elite Subscription is the best way to get all of the benefits of our instructional films, as online streaming, discounted products, special deals, and subscriber-only giveaways.  Come join our exclusive subscription program and you'll always have access to all of our future films, at no extra cost.
Elite Subscription Features
NEW – Bi-Monthly Livestreams with occasionally Special Guests (such as EJ Snyder from Naked & Afraid)
NEW – Special Discord Channel for Subscribers Only
NEW Film "Ultimate Bug-In & Home Defense" Coming Mid-July
Gain access to nearly 36 hours of training films, + free access to ALL future Survival Summit produced films
Automatic 20% off anything on our site
Cancel anytime, no questions asked
Includes all of the currently offered films produced by us
Approx. 70 Total Hours of Survival!!!
34 hours of Legacy Survival Discussions from years past (Webinars) – Available ONLY as an Elite subscriber!
Exclusive subscriber-only giveaways
Don't want to become an Elite Subscriber? Buy our films direct HERE   
Current Films included in the Elite Subscription
COMING SOON: "Ultimate Bug-in and Home Defense" Starring EJ "Skullcrusher" Snyder, from Naked and Afraid, Dual Survivor, etc. 
Green Beret's No-Nonsense Bug Out: A Preparedness Series: Starring The Gray Bearded Green Beret, Joshua Enyart | Runtime: 4 1/2 Hours | 4K Video | October 2020 Release
Into the Ozarks, starring The Gray Bearded Green Beret, Joshua Enyart | Runtime: 128 minutes | 4K Video | Aug. 2020 Release
FIREARMED® Volume One w/ Fit to Fight | Runtime: 120 Minutes | November 2019 Release
TOPS Knives Blade Care | Runtime: 78 Minutes
Survival HD | Runtime: 352 Minutes
Survival Escape & Evasion | Runtime: 97 Minutes
Survival Communications | Runtime: 102 Minutes
Survival Bug Out | Runtime: 117 Minutes
Survival Land Navigation | Runtime: 90 Minutes
Survival Skills | Runtime: 208Minutes
Into the Woods: A Wilderness Survival Film | Runtime: 174 Minutes | February 2020 Release
Wilderness Medical, starring The Gray Bearded Green Beret, Joshua Enyart | Runtime: 4.5 hours | April 2020 Release
Legacy Webinar Series – 34 Hours (from years past)
Become a Hard Target | Starring WOFT (West Orlando Firearms Training) | Runtime 1 Hour, 49 Minutes
Keeping your family safe in a survival situation takes proper training, gear, mindset, and skills, and the Survival Summit is one of the industry's top survival companies. We work with the world's top survival experts to bring you all the latest in preparedness.
You get all of this for only $29.99 per month, or $249.99 per year  (Cancel at any time, No questions asked)