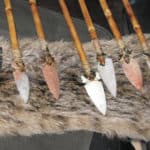 A friend once reminded me, "always take a knife to a gunfight." Sounds counter intuitive but hear me out.
Eventually, a gun runs out of bullets. Unless the gun is a Mosin-Nagant which can double as a "supreme war club," then it's just a heavy and fragile stick.
Seriously though, a good knife is a real weapon even when the blade starts to dull. Find a smooth rock, invest a few minutes and you can sharpen that blade up real nicely.
Read More »