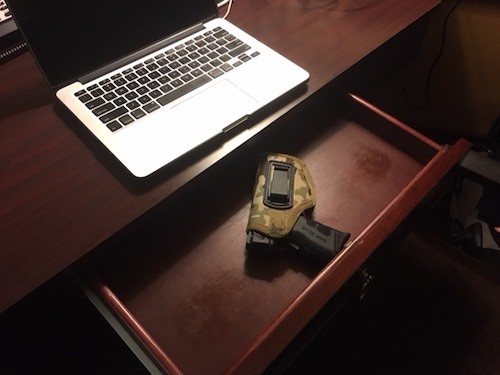 The Dilemma
A gun safe is the safest place to store firearms, but you can't get to your gun in a second or two in an emergency. So what about hiding weapons in the house?
Done right, this is a good idea. With strategically placed guns, you are never more than a few feet away from being able to defend yourself, but no one else knows where you have your gun hidden.
Here are our top locations for hiding a firearm.
On top of the fridge. The magnet holster that hides a gun under a desk works perfectly on the fridge, if you can get to the top of it. If you cannot get to the top then;
In a cabinet. The cabinet can either hold dishes or food. Set the gun against one of the walls and hide it with a large dish. Put ammo in a bowl nearby. In the pantry, hide the gun in or behind a box of food that no one in their right mind will eat. Except do not keep food in the box. Keep extra ammo there too.
Between the mattresses. This has ready access. It is hidden from sight. People often look under the bed, but never between the mattress. Keep it near the head and you will never know it is there while you sleep.
In a chair. This one will take some work. You will have to find a way to hang or place a holster inside the chair where it is not visible. Make sure it is your chair and not a guest chair. You don't want a visitor sitting down and being surprised by a 1911 butt sticking out from the cushions.
In a fake vent. This works especially well if you have floor or wall vents. You can easily make a box, put a vent top on it and you have a perfect hiding place.
Over the closet door. Open the closet. Now look over the door from inside the closet. This is a perfect place to hang a gun.
CONCEALMENT SHELVES
Concealment shelves look good and actually do a great job of hiding stuff. Take a look at this commercial concealment shelf. The problem is it takes two magnets to open the shelf. In an emergency, you have to find those magnets, place them exactly right and still open the shelf.
Another DIY shelf puts the magnet in a dust collector on top of the shelf. This is immensely better because the magnet is right at hand.
The best shelves come with an integral lock that doesn't require a key. Slide a piece of the shelf and the compartment comes open. Push a button and it opens. The important thing is you do not need a separate device to open the concealed shelf.
Most concealment shelves are a great idea, except for the stuff you need in an emergency.
One concealed furniture that is worthwhile is the gun bed. This one can be locked if needed, but also drops a gun in your hands in a fraction of a second when the headboard is unlocked.
 
GENERAL & OBVIOUS WARNING
If you have small children in your home, do not just hide weapons in your house. Keep them secure and away from the little ones. As the children get older and you teach them gun safety, then you can hide firearms.
REACH OUT
We love hearing from our readers. Give us your best tips and ideas. Tell us what works and does not work.