Learn more about our films on USB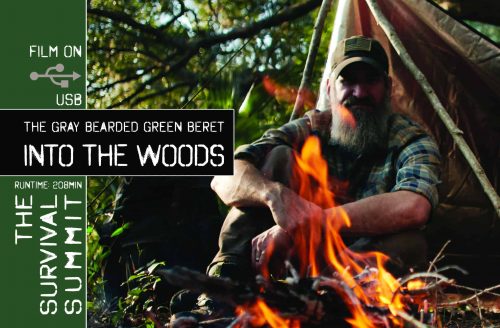 This is a Wilderness Survival film starring Joshua Enyart, aka, The Gray Bearded Green Beret. Joshua takes you "Into the Woods", and turns you into his personal student.
In this film, Joshua breaks down all of the main skills that are necessary if you find yourself in a survival situation. A handful of the things you'll learn are how to identify and use a water vine for hydration on the move, and primitive direction finding using the sun and shadows and using animal signs to find water.
+ Identifying common sources of Natural Tinder-like Broomsedge, Dog Fennel, Pine Sap, Fatwood, and Punkwood; Making water safe to drink using a Grayl Geopress water filter.
+ Shelter Site Selection requirements using the 5 W's; Knots and Lashings including the "Rapid Ridgeline"- the Bowline with a couple of variations, a uniquely modified Truckers Hitch that has an advantage over the traditional method, Fisherman's loop, Prusik knot; the Shear Lash; How to "hank" your Ridgeline so it stays tangle-free, and so much more.
Joshua is one of the best Survival instructors that we have ever worked with and once you watch this film you will understand why. Come take a walk with Joshua and The Survival Summit, Into the Woods.
Film Features
Intro & Gathering Resources
Navigation: Field-expedient Direction Finding
Gathering and Using Natural Tinder
Finding and Filtering Water
Shelter Site Selection
How to tie useful Knots and Lashings
Tarp or Poncho Shelter Configurations
The Elevator Fire Lay
How to make and use Charred Natural Material
Campsite Prep and Setup
Plant Identification
Bonus: Primitive Trapping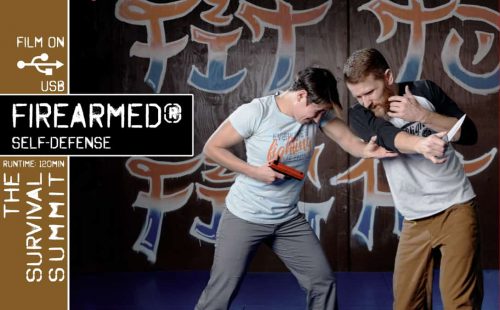 This film is an introduction to the groundbreaking Fit to Fight® FIREARMED® training program. Designed for the complete novice, the shooter, and the fighter, FIREARMED® is a skills and drills based program, for anyone looking to enhance their fighting acumen, in a firearms based environment.
Product Benefits
• Learn to fight, with a gun
• Access and retain your weapon
• Enhance defense of family skills
• Understand the use of force laws
• Enhance decision making under stress
• Improve shooting skills
• Develop your draw from concealment under stress
• Learn life-saving trauma care techniques
• Establish your post-conflict strategy
• Progress your skills with unique training drills
This film details all of the fundamental skills required to learn to fight, when armed, while also demonstrating real-life scenarios and drills crucial to attribute development.
Product Features
Lessons for all skill levels
A detailed breakdown of techniques
Practice from the comfort of your own home
Solo drills for skill enhancement
Scenarios for applicability
The estimated length is approx. 2 hours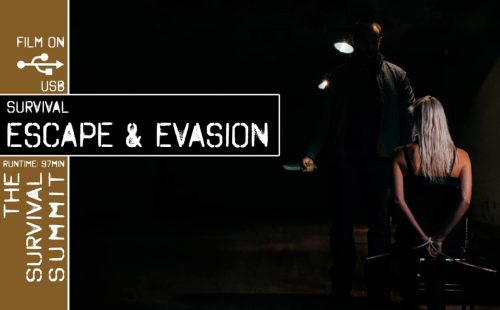 Join Jack Richland, a US Marine Veteran and CEO of Black Scout Survival as he teaches critical Escape and Evasion skills and techniques to turn you into his personal student, and gives you the up-close and critical details with crystal clear instructions, to turn you into a captor's worst nightmare.
In the year 2014 the United States of America averaged:
700 Abductions per day
8,000 home invasions per day
40 murders per day
And those are just the crimes that were actually reported
Right here in the United States of America during relatively safe times, a violent crime occurs every 25.3 seconds. What will that look like when times get worse?
You buy a gun to protect yourself and your family, but how will you protect them when you're not right there by their side?
In this Online Streaming video you will learn:
Escape Illegal Restraints
Escape handcuffs
Escape duct Tape
Escape zip Ties and Flex Cuffs
Escape ropes
Escape from the trunk of a car while handcuffed
How to secretly carry everyday items on your person to escape illegal restraints
How to lose someone who you suspect is following you
Anti Tracking & Counter Surveillance Techniques
Untraceable Communications
Lock Picking with tools as well as everyday items
Cellphone Complacency
Anti-kidnapping techniques
Everyday disguises that will make you virtually disappear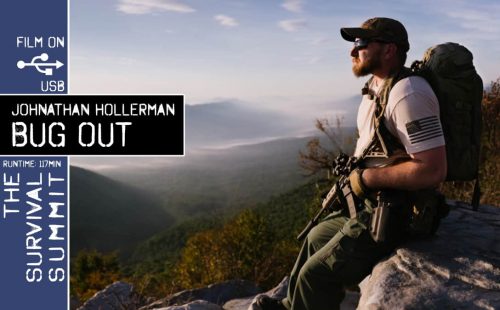 Disaster can strike anytime, whether it be a financial collapse, pandemics, loss of the electric grid, or the many other scenarios that could cause a complete societal collapse.
Would you stay in town with millions of desperate and starving people or would you get the hell out of dodge?
What you'll learn in this film
Secrets of the bugout bag
What gear to pack and what to leave
How to minimize visibility on the way
From the mind of best-selling author and professional retreat consultant Jonathan Hollerman.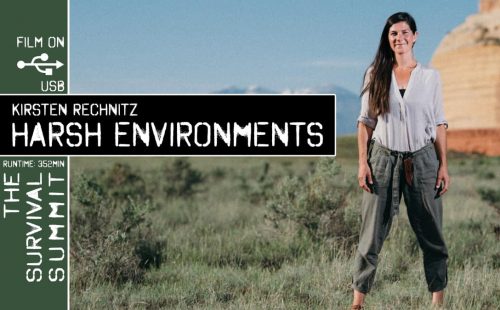 5+ hours of content!   
It's been said that if you know how to survive the high desert, you can survive just about anywhere. That's precisely why The Survival Summit teamed up with an expert, Kirsten Rechnitz, to produce  Survival HD, How To Survive The Harsh Environments of the High Desert & Low Mountains.
With extreme temperature transitions from "shorts-weather" to blizzards in just a 12-hour time frame, the high deserts and low mountains near Moab, UT proved to be the perfect location for this incredible film.
Having spent nearly the last decade living in this exact type of terrain, Kirsten articulately details how to prepare for such an environment, as well as how to turn it into a comfortable experience, should you find yourself there unexpectedly.
Whether you're a backpacker who gets lost, an injured base jumper awaiting rescue, or someone preparing for any SHTF Scenario, this film will arm you with the knowledge that you'll need to survive one of the harshest environments out there. From finding water, procuring food, building shelter, starting a fire, and getting rescued, cooking food, making spears, and trapping, Kirsten holds nothing back in this incredible series.
In this Film:
Cold and Hot Weather Clothing
Priorities of Survival
Campsite Selection
Campsite Preps
Shelter Building
Tandem Bow Drill
Knife Techniques
Get Rescued
Make Primitive Glue & Repair Wood
Turn Sticks into Pencils
Good Hygiene Practices
Make a Dart for Hunting
Fletch a Dart
Make Primitive Cordage
Trapping Small Game
Processing Food and Identify Good Meat
Cooking and Making Rabbit Calzone
Navigate to Water (Bonus)
Wild Edibles (Bonus)
DVD – NTSC
Total Runtime: 6 Hours (with bonus) 5 Hours without bonus
Disc 1) 1:29 • Disc 2) 1:50 • Disc 3) 1:35 • Bonus) 1:04
Some of the information on this video may be illegal in your area. Check with your local law enforcement or attorneys before attempting anything on this video. You are responsible for your own actions. No-one associated with this content has any liability to any person or entity with respect to loss or damage caused or alleged to be caused directly or indirectly by any advice or information provided herein. This video is for entertainment purposes and is not a substitute for proper training or legal advice.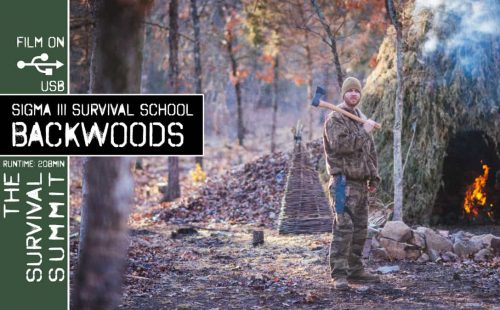 Whether you're a day hiker who finds himself lost in the woods or the hard-core prepper, this professionally filmed and edited video by two of the self-proclaimed coolest people on earth, will walk you through the hard-core realities of staying alive in survival situations
Imagine being able to walk off into the woods with nothing more than a knife, and survive indefinitely…
The Survival Summit is proud to present Sigma 3 Survival School's founder and wilderness survival expert, Robert Allen, in his very own full-length film, Survival Skills.
In this online streaming film, you'll discover the critical secrets and subtle nuances behind how to properly start a fire using a bow drill, how to build a primitive shelter with little or no tools that'll keep you warmer than a modern tent can.
You'll also learn how to build warm weather shelters, filter water primitively, procure your own food, and much, much more! Many of the skills are shown primitively with no tools, or semi primitively with minimal tools.
Features
Critical Survival Tools for EDC
Knife Sharpening
Cold Weather Shelter
Warm Weather Shelter
Tarp Lean To
Plow Point
Sip Well
Carbon Water Filter
Bow Drill
Bow Drill With a Student (So you can learn from his mistakes)
Tipi Fire
Ferro Rod
Diamond Blowing Technique (You'll never start a fire without this technique after watching this video!)
All Night Fire (Which should be re-named the 48-Hour Fire)
Snare Trapping
Body Hold Trapping
Paiute Deadfall
Meat Preparation
Meat Preserving
Perhaps our favorite item here at The Survival Summit is the All-Night Fire, which kept us warm for 40 hours while filming, without adding wood.
Whether you're the backpacker who wants to have a few extra skills or the hardcore prepper, this DVD will teach you the critical basic skills needed to survive in the wilderness during an emergency.
LEARN: Critical Survival Tools | Knife Sharpening | Cold & Warm Weather Shelter | Tarp Lean To | Plow Point | Sip Well | Carbon Water Filter | Bow Drill | Tipi Fire | Ferro Rod | Diamond Blowing Technique | 48+ Hour 0 Maintenence Fire | Snare Trapping | Body Hold Trapping | Paiute Deadfall | Meat Preparation | Meat Preserving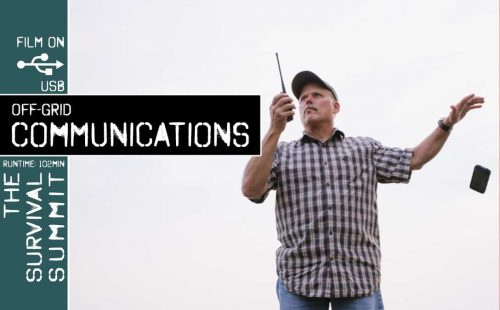 The Survival Summit team produced a brand new film called Survival Communications in conjunction with preparedness expert and doctor, David Pruett. In this film you'll learn everything you need to know about getting started and on the air with radio communications.
What you will learn
Licensed and Unlicensed Communication | Scanners | Legal Dangers You Need To Know About Your Non-Licensed Radios | Develop A Comms Plan | Multiple Portable Power Options For Communications | How To Assemble A Grab & Go Comms Kit | HAM Radio Language And Etiquette | Tips On Getting Your HAM License & Getting On The Air | Your First Radio DIY Projects | Access To Free Custom Resource Guides To Get You Started!
Included in this film
102 min runtime of content
HAM Radio Dictionary
Resource Guide
What is Your Grid-Down Communications Plan?
Communications is the most neglected area of preparedness. Our smartphones have become an integral aspect of our daily routine. Their portability and ease of use make them seem the ideal solution during a disaster.
Nothing could be further from the truth. Cellular networks are in reality fragile systems that simply can not be counted on during a disaster.
These systems can be taken out of service by overloaded cell towers, natural disasters, significant weather events, power outages, forest fires, and terrorist attacks just to name a few at the top of a long list.
You need to look no further than recent history to understand the importance of preparedness communications. During Hurricane Katrina and Hurricane Sandy communications failed because landline and wireless cell phone service was knocked out of commission by power failures, hurricane-force winds, and massive widespread flooding.
With no personal communications plan, residents were left without the ability to call for help or notify family and friends of their wellbeing. Most people also lacked the ability to keep phones and other devices charged and operational.
The bottom line, getting a radio and putting it on your preparedness shelf is inadequate and a sure recipe for failure in a time of need. To be truly useful as a preparedness communications tool you need to practice using your radio, have a communications plan, and practice the plan frequently.
Start your personal preparedness communications plan today and purchase The Survival Summit Survival Communications DVD. Implement the simple communications plan reviewed in the DVD.
Start assembling your communications kit and practice with family and friends on a regular basis. If this piques your interest than consider getting your HAM radio license and become a communications resource for your community.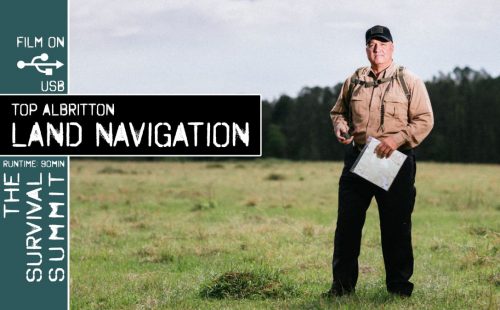 Tech will fail, either in everyday life or in an emergency. This film will get you up to speed on how to effectively navigate your way to safety with nothing more than a compass and a map. If you need more, this film has it from finding where you are, primitive compass techniques, hiding caches, and more…
LEARN: Declination | Compass types | Pace count | How to navigate without a GPS | How to make your own compass | How to correctly read a topographic map | Understand "Declination" and why it's important | Find where you are on a map so you can correctly navigate towards water (or other essential resource) | Hide and locate a secret cache without losing it | Determine what makes a good compass | Route planning and selection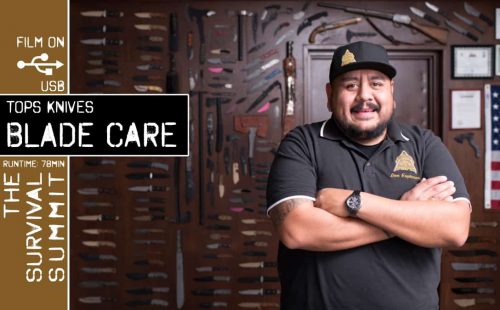 Learn from the top dogs at TOPS Knives as they take you through the history of one of the finest knife makers on the planet, how to care for your blade, and how to make a blade from a piece of metal. You will get to see the inner workings of the TOPS facility and just how much handwork goes into each and every blade. This is a family that cares about the quality and detail it takes to make a knife that is designed to be with you for life.  1 Hour, 18 Minutes 
LEARN: Anti-rust techniques short term and long term | Best Practices for Sharpening | Best Angle for Sharpening | Make your own Blade at Home | History of TOPS
Thank you
for visiting our site!