Blue Line Breachers Badass Box
By George Paul Tire
When this showed up, my first reaction was "what in the world?" The box was heavy, coming in at 17 pounds. I then remembered I was getting a review sample of a small gun safe suitable for mounting in a vehicle (though you could certainly finds places for it at home as well.) What I didn't realize was that it was going to be something that would go nicely in a Bradley Fighting Vehicle. I'm really glad I didn't drop it on my foot.
The $275 Badass Box is sold by Blue Line Breachers, a Naples, FL company that offers self-defense training and the Badass. I'm not completely thrilled with the name, but I have to admit to being very impressed by the box. I have an assortment of handgun security boxes, but they pale in comparison to this one.
Its design was inspired by the boxes used to secure breaching explosives in law enforcement vehicles which is the kind of work the folks at Blue Line are involved. Law enforcement sometimes has to use explosives to enter places with locked doors and this isn't the sort of stuff they want stolen. Surprisingly, law enforcement vehicles are often targeted by crooks who suspect they can get quality firearms, communication gear and other goods from them, so this sort of box fulfills a real need.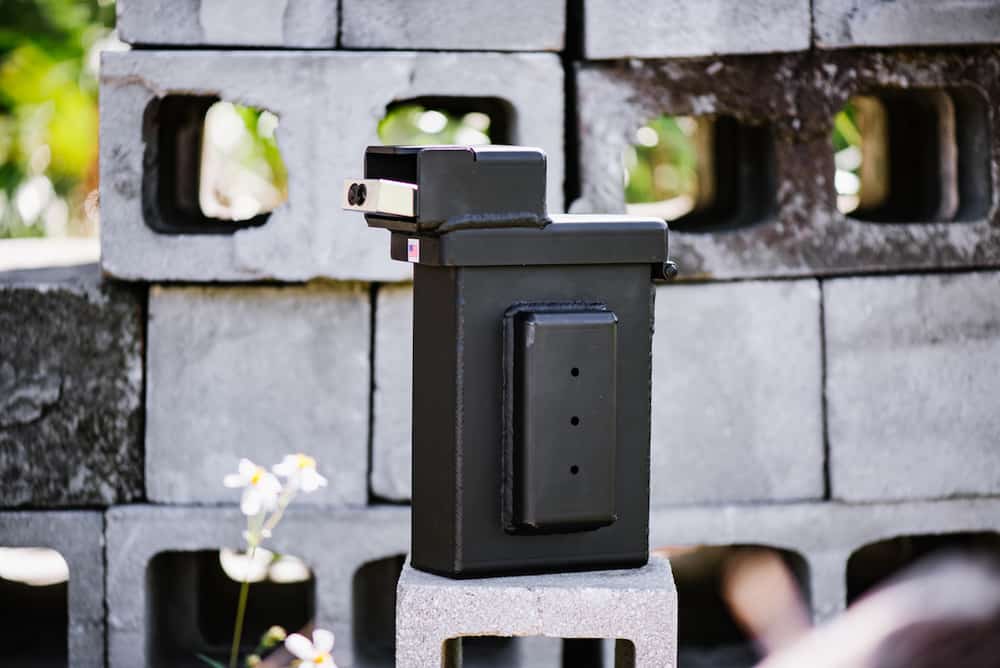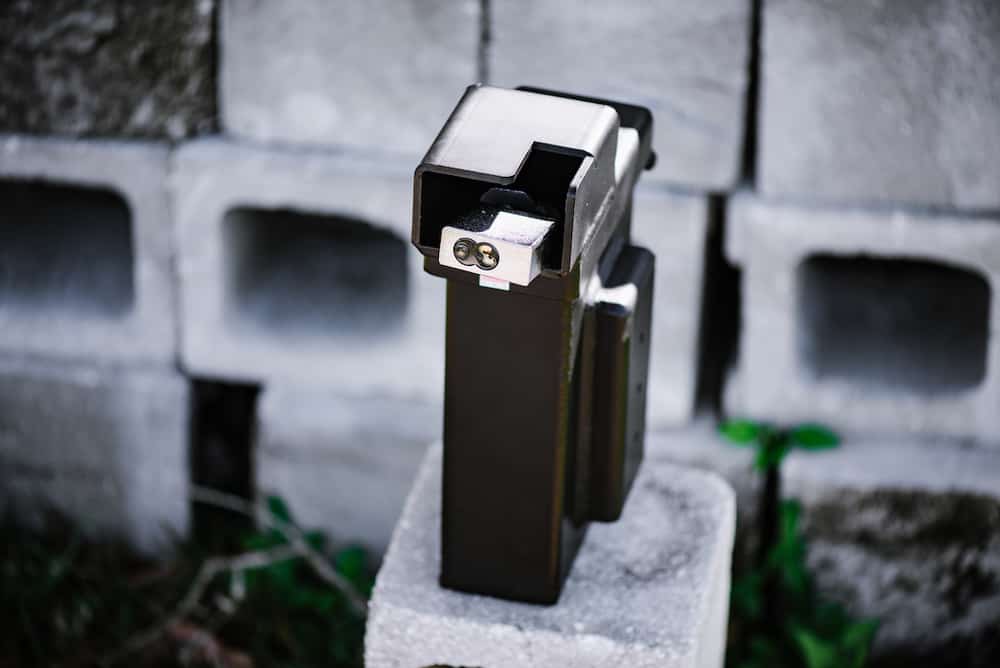 Another issue for law enforcement is deflagration of the charges. Ok, I had to look that up. Deflagration is the process between combustion and detonation. In other words it's more than burning, but short of an explosion. The box, therefore, can contain a very nasty event which I'm sure responding firefighters, or anyone near a cruiser, would appreciate. The Bureau of Alcohol, Tobacco, Firearms and Explosives actually has regulations on how this stuff has to be stored and Blue Line Breachers says their box exceeds the requirements.
So how does this add up when you convert it to a gun safe? Pretty dang tough. It's made out of 7 gauge steel which is more than 3/16" thick. The parts are cut out with a laser and then TIG welded together. The welds are neatly done, leaving an industrial appearance underneath the smooth black powder coat finish.
The size of the Badass is hard to describe as it is a complex shape. There is a protuberance on one side to bolt it to your vehicle and another on the top to protect the padlock. The exterior of the box part that holds the gun is 2.9×6.4×10". The whole thing is 4 1/8×11 7/8" at its very largest dimensions. I found that it will hold a full size 1911 or a S&W K-Frame revolver with a 4" barrel perfectly. An N-Frame with a 6" barrel is a no go, however, but that's not a common carry gun. There is enough space to keep some spare ammo or other small items in the bottom assuming one puts the handgun in muzzle first.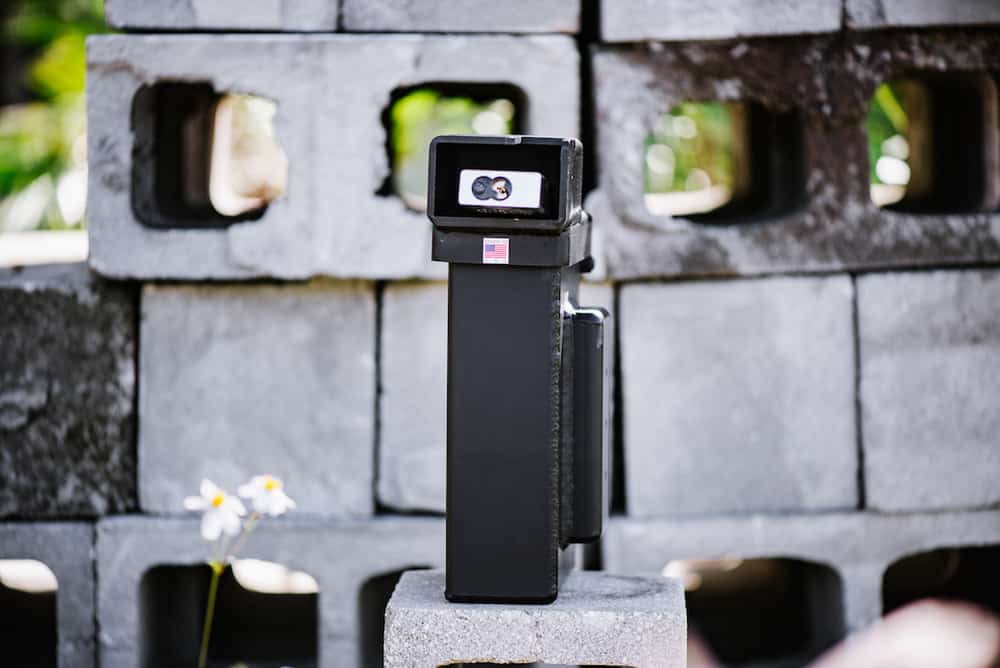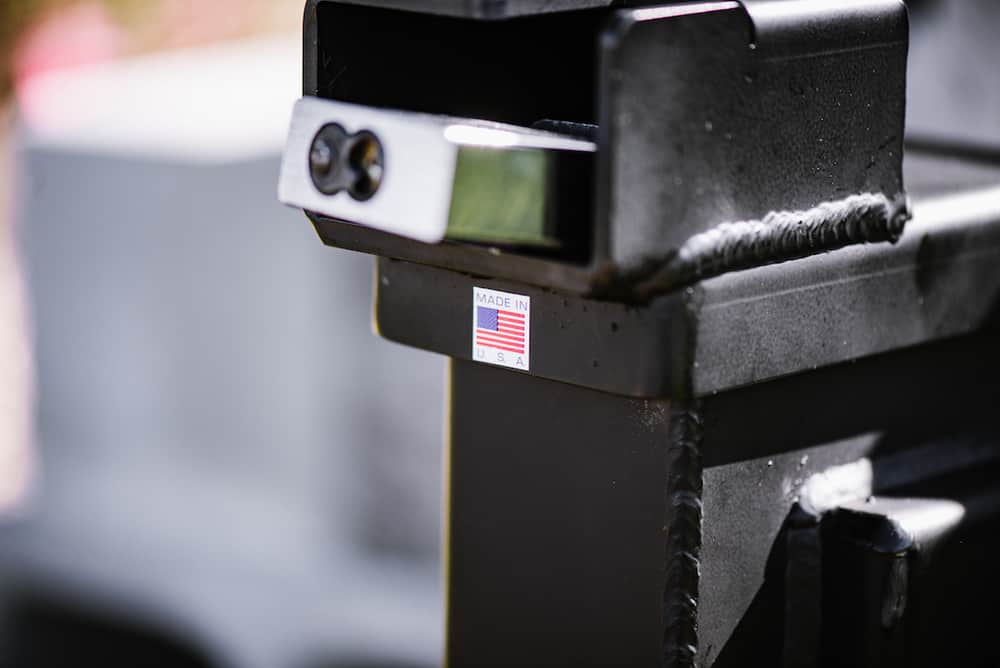 The box is lined with "cushioned cross linked polyethylene foam" to keep your firearm from being scratched. Thankfully, it doesn't retain moisture which will help protect your weapon, though I might stick some corrosion inhibiting paper in just to be sure.
An electrostatic proof bag is included in the package so you can stash small electronics with your weapon with the assurance they are safe from an EMP or a Carrington event.
It isn't a rapid access safe since you have to dig out a key to open it. It comes with a very serious 5 pin padlock made by American Lock. As mentioned, there is a hood made from the same 7 gauge steel as the rest of the box to protect the lock shackle and the box hasp. It takes a bit of practice to get it locked as you have to slip the lock into the hood and get the shackle through the hasp, but getting it open is easy.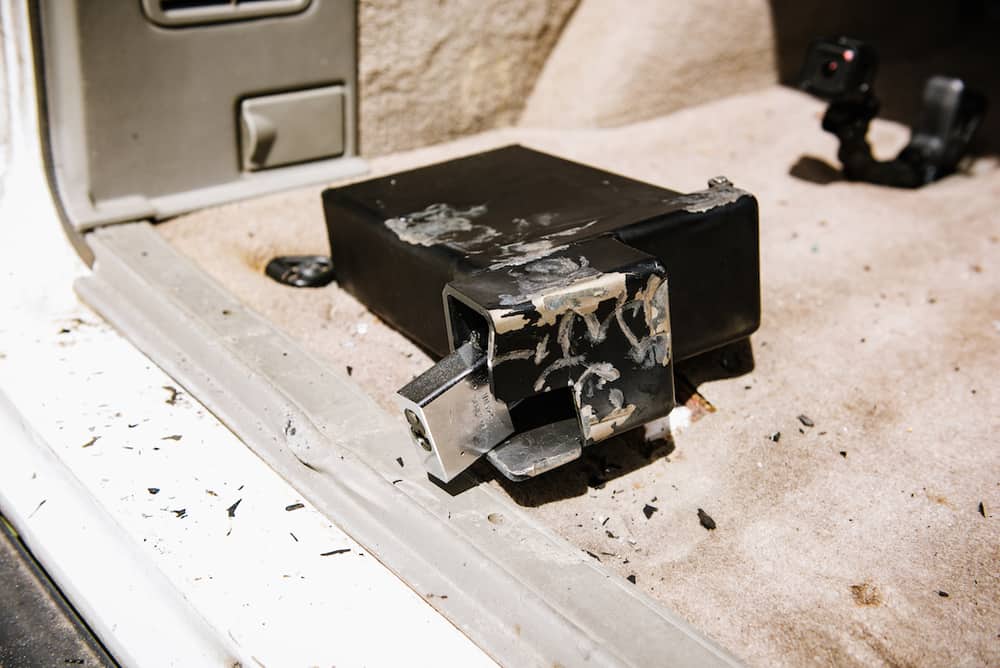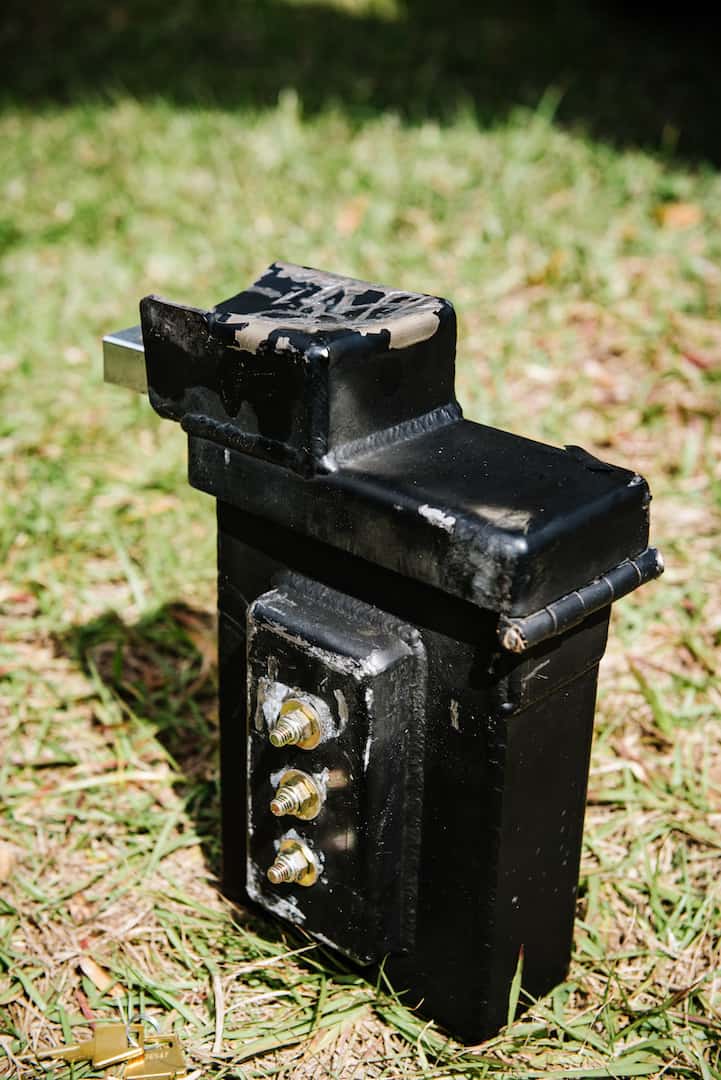 There are mounting holes, thankfully, in the bottom and on the side. I would hate to have to drill this stuff. Grade 8 bolts and nuts with Nylock type inserts are provided to hang it where you desire. Grade 8 is one of the strongest bolts money can buy. The location you bolt it to is a point to put serious thought into. Chances are the box is stronger than almost anything you can hang it on. While the bolts are strong, you will want to make it hard for a thief to get to them and the mounting point needs to be strong.
All in all, this is the most secure small gun safe I've seen. The steel is as thick as the $4,000 home safe I have been drooling over. It isn't fire proof, but that's not its purpose. As long as you don't mind having to produce a key to access it and you have a solid place to mount it, it is hard to imagine anyone being able to steal your handgun. That's a nice thought to have if you have to leave it in your car.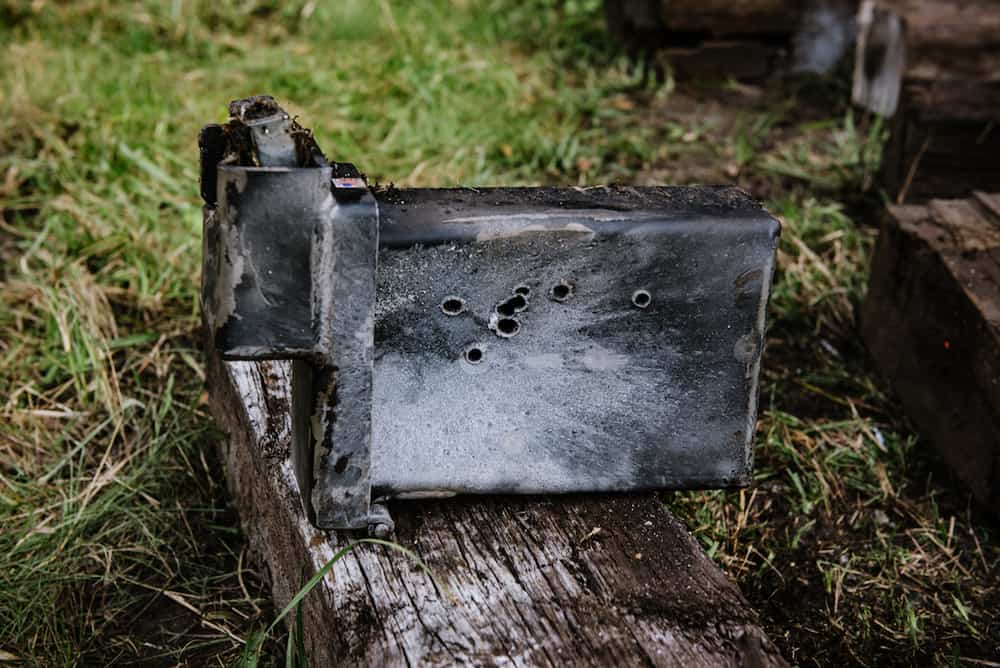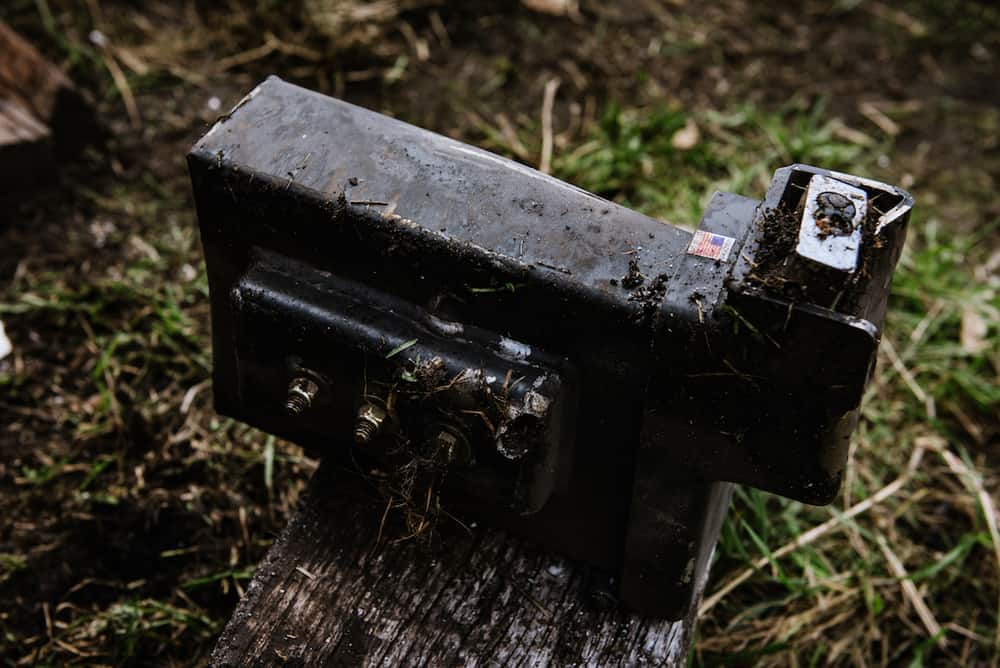 Behind the Scenes – Making of the review video